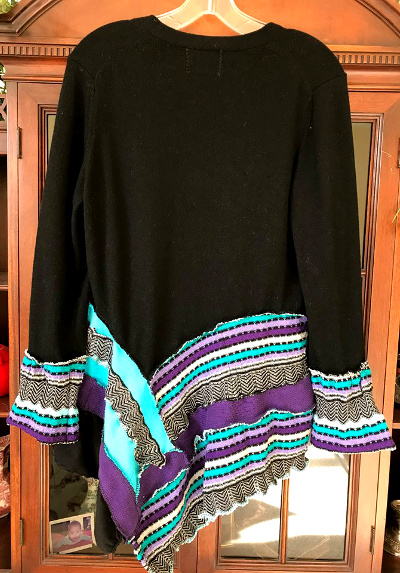 Our annual Holiday Hop will be on December 8th, from 5-8pm. Ten locations, including us, will have guest artists and refreshments – it will be a fun and festive evening!
Our guest artist will be Linda Ackerman of Paper Rose Design – Altered Couture. She will be bringing lots of new clothing and mittens for a mini trunk show of her work.
In addition, we'll have art doll ornaments by Julie Waring, wine bottle candles by Theresa Head, and items by other guest artists.
We'll also be taking donations for PAWSibilities, Humane Society of Summit County, of both cash and products needed for the animals.
For more info about the Holiday Hop, join the event on Facebook (http://www.facebook.com/events/654651764741496/) or visit www.hudsonarthop.com. Other shops that are part of the hop are:
South Hudson:
The Red Twig, 5245 Darrow Road:  Mixed-media artist Jane Wetzel, plus Jennifer Worden, Cleveland Street Glass, Kabir Syed, Sarah Greer, Whistlers Glenn Alpacas.
Standing Rock Gallery, 5194 Darrow Road:  handmade holiday ornaments, a Hudson jewelry artist, as well as plenty of holiday cheer.
Olive My Heart, 5108 Darrow Road: wildlife paintings by Geoff Mowery.
Historic Main Street:
The Learned Owl, 204 N. Main Street:  Author Barb Youel and her book "First Serve: 40 Delicious Plant-Based Recipes for a Year of Tennis Grand Slams and Club Matches".
Peachtree Southern Kitchen, 200 N. Main Street: Three floors of art! Their guest artist is Sarah Dalesandro, an abstract artist, originally from Memphis now living in Hudson.
Uncommon Art, 178½ N. Main Street (2nd Floor):  Altered clothing by Linda Ackerman of Paper Rose Designs – Altered Couture. Come pick out the perfect outfit for your holiday parties!
Open Door Coffee, 164 N. Main Street: Susan Terkel's upcycled hats and mittens, plus beaded necklaces with all proceeds going to the Lesotho Connection orphanage.
Hudson Fine Art & Framing, 160 N. Main Street:  Ornaments from Metal Petal Studio and Iron Maiden Art.
Fair Trade on Main, 134 N. Main Street: Women's Club of Hudson, with Hudson clock tower bricks, coasters, painted signs and a metal clock tower votive to help raise scholarship funds.
Suburban Sit, 98 N. Main Street:  Clay pieces, hand-dyed napkins, and much more by graphic designer and art director Nikki Mezic.