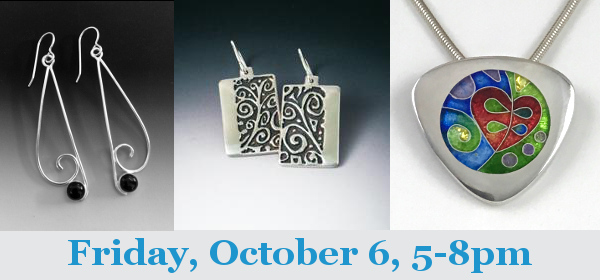 Uncommon Art is delighted to host a trunk show for jewelry artist Catherine Davies Paetz!
Join us on Friday, October 6, from 5-8pm for an evening of exquisite jewelry, art, and refreshments.
Catherine loves to create wearable art that brings people joy. Her original silver jewelry designs explore playful line work and/or unique surface texture and are often accented with enamel, gold, stones, or pearls.
Catherine has been designing and creating jewelry for more than 35 years and has a BFA in Metals. In recent years, she has rekindled her passion for enameling. Teaching jewelry classes and workshops provide an opportunity to share the love of jewelry making with others. Her one-of-a-kind designs and production jewelry can be found in galleries and at fine craft shows.
In Cathy's words,
Making art is exciting to me, it's an electric feeling. I always look forward to seeing what the art-making will bring…as if I'm a conduit for creative energy, open-minded and eager, awaiting the next joyful inspiration.
This same evening is the Annual "In the Pink" art show to benefit The Gathering Place in honor of Breast Cancer Awareness month. Hudson Fine Art and The Red Twig will be raffling off small paintings to benefit The Gathering Place. We will have an interactive project honoring cancer patients and survivors.
For more info:
http://www.facebook.com/events/1097900003646579/
http://www.hudsonfineartandframing.com/events/