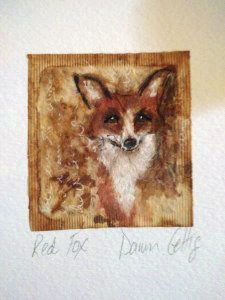 We are pleased to host mixed media artist Dawn Gettig during the Art Hop on July 14.
She's a mixed media artist who enjoys deconstructing teabags and painting on them – usually images of nature or wildlife.
"Creating intuitive art is a journey of passion for me. It is a continually evolving process reflecting my life path and experience of nature and the world around me. I continually try to express myself in a deep, organic and original way. I apply acrylic paint or ink to canvas, wood or paper. I often use watercolor pencils, paint-pens, decorative paper and other mediums that inspire me.
My process is intuitive. My style is a blend of whimsical, folk, fantasy and abstraction inspired by nature, my dreams, my imagination and the mystery and magic of life," says Gettig.
In addition to having her work on display during the Art Hop, Gettig will have a large canvas set up and visitors can add paint to a collaborative painting. To learn more about her work, visit her website at www.dawngettig.com.