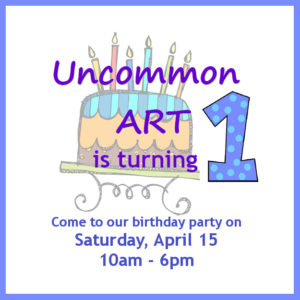 Well, it's hard to believe that a whole year has gone by here at Uncommon Art Gallery and Studios!
This time last year we were pulling up carpet, polishing floors and painting every surface that didn't move.
We explored the bones of this old building (built in 1833), reopening doorways that had long been closed and washing windows that are certifiably historic (who knew?).
We're grateful for the opportunity to bring creative energy to Hudson's historic Main Street and a building that's seen so much of Hudson's history.
We're thankful for new friendships and for everyone who made the climb to see what was at the top of the stairs.
So to celebrate, join us for a birthday open house on Saturday, April 15 from 10am – 6pm. We'll have cake, prizes, balloon animals and all-around arty fun!
Mark the date and join the fun — Uncommon Art is turning ONE!