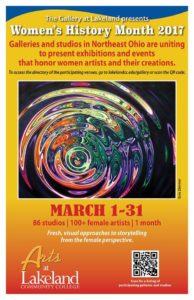 During March, which is Women's History Month, studios and galleries throughout Northeast Ohio are hosting exhibits focusing on art by and about women. About 86 locations are taking part. To see them all, download the directory from this link: http://bit.ly/2lsXlOz
On Friday, March 10, 5-8 p.m, three galleries in Hudson are having Artist Receptions for new shows. Come enjoy the wonderful artwork at all three galleries!
Uncommon Art
Threads of the Past: artwork with an eye to history.
178½ N. Main St., Hudson, Ohio 44236
Hudson Fine Art and Framing Co.
All Different But Just Like Me: Linda Hutchinson.
160 N. Main St., Hudson, Ohio 44236
The Red Twig
Featured Artists: Deborah French, Mo Gartland, Debra-Lynn Hook, Cynde Hujarski, Cari Miller, Judy Takacs and Jennifer Worden.
5245 Darrow Rd., Hudson, Ohio 44236
The gallery tour has been organized by Mary Urbas at Lakeland Community College. To see more events, visit http://lakelandcc.edu/gallery .