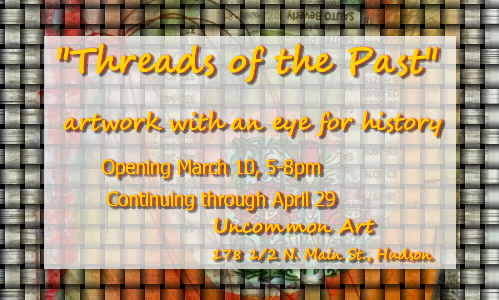 During March and April, we are pleased to show a new exhibit called "Threads of the Past," artwork created with an eye to history. The artists of Uncommon Art will all have artwork in the exhibit, with our own special perspective on both recent and distant histories.
Dana Giel-Ray has made jewelry created with Egyptian influences.
Shannon Casey's new series of paintings are inspired by an old autograph book found at a Hudson antiques show.
Karen Koch's mixed media pieces evoke memories and layers of time – some with stitching and buttons that are a nod to her past.
Our building at 178 1/2 N. Main Street was built in 1833 by Owen Brown, so we will honor its history as well.
"Threads of the Past" opens with a reception on Friday, March 10, 5-8pm, then continues through the month of April.
The reception on March 10th coincides with openings at Hudson Fine Art & Framing ("All Different But Just Like Me") and The Red Twig, so be sure to stop by and visit them as well.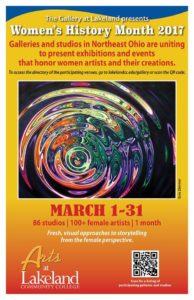 Our show is also part of the Women's History Month gallery tour. During March, galleries and studios throughout Northeast Ohio are presenting exhibits and events that honor women artists.
Coordinated by Mary Urbas at Lakeland Community College, the tour brings together 86 studios and more than 100 female artists. A comprehensive directory lists all of the events and locations. Pick up a printed copy from us, or download a PDF copy here:
https://myportal.lakelandcc.edu/c/document_library/get_file?uuid=bc48f814-2cc8-4029-a216-d6c53e67aab0&groupId=509980