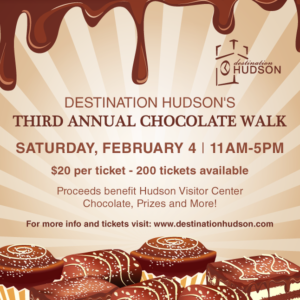 Break the winter doldrums and indulge your sweet tooth with Destination Hudson's Third Annual Chocolate Walk.
Saturday, Feb 4, 2017
11 a.m. to 5 p.m.
$20 per ticket – only 200 tickets available
Your ticket gets you a passport to visit 25 businesess in Hudson who will give you something chocolatey and wonderful.
We're one of the Main Street locations on the walk, and will be handing out a sweet arty treat.
Tickets WILL sell out! Purchase them in advance at https://squareup.com/market/destination-hudson-slash-visitor-center or at the Visitor Center (27 E. Main Street in Old Town Hall).
On the 4th, go to the Visitor Center first to pick up your passport and chocolate collection bag.
For more information call 330-906-0642.