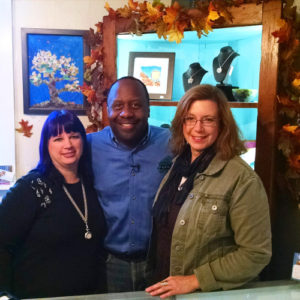 We were delighted to have Kenny Crumpton of Fox 8's Kickin' It With Kenny visit our studios this past week. He came by Thursday morning and we gave him a tour of the place.
Then we he interviewed us LIVE on air! Although we expected to be nervous, he is very comfortable to talk to, and obviously quite skilled at making newbies sound good on camera.
We enjoyed meeting his crew, and finding out that his cameraman is an artist too!
He spent the morning in Hudson and visited 4 places: the new Fire Museum at Town Hall, Peachtree Southern Kitchen, and Gwendolyn Elizabeth, in addition to us.
Watch our interview below, and see all the videos here:
http://fox8.com/2016/11/10/kickin-it-with-kenny-hudsons-own/