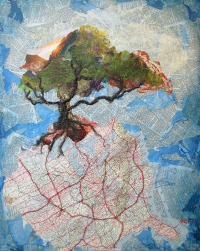 The artists of Uncommon Art – Shannon Casey, Dana Giel-Ray, and Karen Koch – are delighted to announce their first collaborative exhibit!
The show, entitled "Trees I've Known and A Few Shrubs", features artwork trees and nature. The artists are celebrating the 100th birthday of our national parks and expressing their joy in our natural world.
Although the artists have shared studio space for a while, this is the first time that all three have worked together on artwork for a common theme.
Come see paintings, mixed-media art, and jewelry that have been created specially for this show.
The show opens October 21, 5-8pm, and runs through November 12. Everyone is invited!