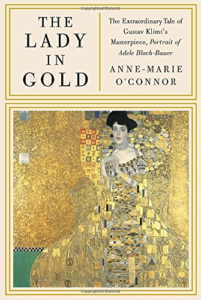 Join a group of art lovers who like to read books and chat!
Meet on August 9 at 6:30 to talk about:
The Lady in Gold by Anne-Marie O'Connor
This award-winning book tells the true story of Gustav Klimt's famous portrait. The painting, stolen by Nazis during World War II, resurfaced in Austria after the war. The ensuing legal battle over ownership of the painting is as full of twists and turns as any mystery novel.
Please feel free to bring suggestions for titles to read in the upcoming – and a friend!
Although our love of art is the common thread that ties this group together, we also all enjoy travel, food, and a number of other topics, so feel free to suggest interesting books.
If you want to come but haven't finished (or started!) the book, please come anyway. We'd love to get acquainted.
Uncommon Art, 178 ½ N. Main Street, Hudson OH.
Contact Karen Koch, 216-789-2751 for more info.